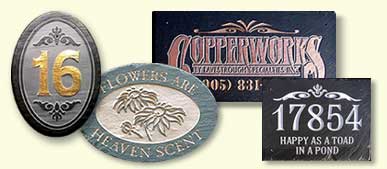 WE OFFER 4 WAYS TO ORDER:
1. SIGNselector ON-LINE. 


It's fun, it's easy, and it's the BEST way to order on-line.
You will actually be able to try out the different color combinations and layouts to see what looks best on your home before you buy it!

Note: If you can see the animated red SIGNselector logo you have the correct version of FLASH. If you don't have it, you may download it here for FREE.
2. ON-LINE.
Click on one of the links below and choose your desired template from the bottom of the page. You'll then be taken to an order page where you may choose your colors and other options.
3. FAX. 
Click on any PDF file below and print out the order form.  Fax the completed form to us at 905-427-8072.

Note: Viewing and printing PDF files requires Adobe Acrobat Reader. If Adobe Acrobat Reader is not installed on your computer system, you can download it at no cost by clicking the graphic at left.
4. MAIL & PHONE. 
If the above methods are inconvenient or you don't have access to a fax machine you can, of course, still place an order with us.  It's as simple as one, two, three!
Step One: Print out and complete one of the above order forms OR, after deciding   on a particular sign, write down or print out the details of the page that contains your choice.  Then decide on what slate and paint colors suit you best.


Step Two: For phone orders, have your credit card and shipping information handy.


Step Three: Pick your favorite method to contact us -



By Fax: Fax us at 905-427-8072
By Phone: Contact us Toll Free at 1-888-427-7446
Our Customer Service staff will be glad to take your order Monday - Friday 9:00 a.m.-8:00 p.m., Saturday 10:00-1:00 Eastern Standard Time.  Should you call outside of our office hours, please leave a message and we will return your call as soon as possible.
By Mail: Mail your completed order form:

USA
Signs From Above
362 East Broadway Street, #351
Cape Vincent
New York, 13618


Canada
Signs From Above
769 Hwy 95
Wolfe Island, Ontario
K0H 2Y0



By Email: Contact us by email at: info@signsfromabove.com or use our CONTACT FORM.
Please indicates the items you're interested in and supply us with a phone number where you can be reached. Please do not email us your Credit Card information. As soon as we receive your email we will call you back to confirm your order total, as well as your credit card and shipping information.
Copyright Signs from Above, a division of the Wolfe Island Trust Inc. All rights reserved. 1993-2015