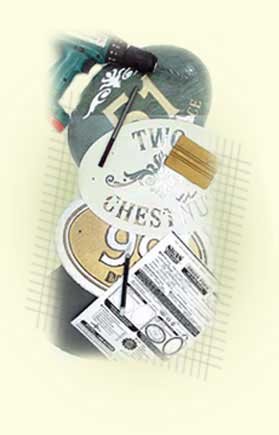 What are the standard sizes and shapes?
Are other sizes or shapes available?
What letter styles are standard?
What can we put on the sign without extra charge?
How is the sign designed?
Is a proof available before the sign is carved?
How is the Slate carved?
What type of paint is used on the sign?
How well can you see these signs at night?
How do you put real gold on the Slate?
What are the standard sizes and shapes?
We hand cut the 1/4" - 1/2" thick slate to the required size and shape.

Most popular choices:
| | |
| --- | --- |
| Oval | Rectangle |
| 9.25" x 13" | 10" x 13" |
| 12" x 24" | 12" x 24" |

Are other sizes or shapes available?
Any other sizes or special shapes are considered "custom" and charged accordingly. The larger the piece, the thicker the stone, and the higher the cost. [Back to Top]
What letter styles are standard? (see fig.1)
Turn of the century stone cutter fonts are used in most of our house signs to give a classic appearance which is easily read. We can accommodate most requests for other fonts provided the lettering is no smaller than 1/2". This work is considered "custom" and charged accordingly. [Back to Top]
What can we put on the sign without extra charge? (see fig.2)
We do not charge by the letter, number, or scroll on any of our standard signs. For example, whether your name is Rumpilstilskin or Smith, if it will fit and look nice, it's carved at NO EXTRA CHARGE! This even applies to our Wine Cellar, Cottage, and "Something Different" signs which also include our standard pictures of wine bottles, grapes, glasses, cork screws, loons, thistles, etc. . . .[Back to Top]
How is the sign designed? (see fig.3)
We take your request and, using specially engineered software, create a unique design especially for you. We strive to achieve a generally pleasing overall design which ensures that your sign will look different than your neighbors, even if they have ordered one of our signs! Since we are not restricted to using set sizes of lettering or scrolls we have the freedom and flexibility to make subtle changes to your sign that guarantees a well balanced, visually attractive sign. [Back to Top]
Is a proof available before the sign is carved? (see fig.4)
At time of ordering you have the option to request a faxed proof. We will gladly provide you with one proof and up to two changes of that proof without charge. Additional proofs are $5 each. [Back to Top]
How is the Slate carved? (see fig.5)
Once the final design is completed, the computer outputs our carving pattern. We use a combination of sandblasting and hand carving with sculptor's chisels we import from England. [Back to Top]
What type of paint is used on the sign?
Monument grade enamel paint is applied to the carved areas of the sign. Usually three to five thin coats are required to provide adequate coverage and durability. Some specialty paint techniques involve airbrushing a second color into the still wet first color. [Back to Top]
How well can you see these signs at night?
All of our signs are three dimensional. This means that lighting them from any side will cast shadows making them far more readable than a flat sign. We also offer an optional Night Vision coating that transforms any sign into a reflective sign. [Back to Top]
How do you put real gold on the Slate? (see fig.6)
If genuine 23kt gold leaf is requested the process is somewhat different. The areas to be gilded must first be sealed and gold "size" is applied. When the size sets up, usually overnight, we apply real 23kt gold leaf (a micro thin piece of gold approx. 3" x 3") to the size. The gold is then burnished and the entire process is then repeated as we double-gild all of our signs to ensure a long life. [Back to Top]