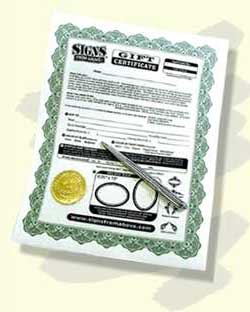 A Signs from Above Gift Certificate is a thoughtful gift for a friend or family member. It is also a great way of saying thank you to a valued client, rewarding an employee, or delighting a co-worker.
With so many choices of slate and paint colors it's sometimes hard to know what another person might like, you don't want to make a mistake, especially when it's a gift carved in stone that could last forever! One of our Gift Certificates is the perfect solution, even when you've left things to the last minute but still want to give a personal gift that will be appreciated for many years.
You can purchase an "all inclusive" Gift Certificate for any of our slate signs which includes shipping anywhere in North America (excluding Alaska & Hawaii).
Gift Certificates can be sent to your address or directly to the gift recipient. We can send a paper gift certificate (allow a minimum 5 days) or an electronic one (allow a minimum 24 hrs. - Friday, Weekend, and Holiday purchases will be sent out the next business day).
By purchasing the Gift Certificate today you are locking in the price of the sign and guaranteeing that, even if our prices and shipping costs rise between now and next year, it won't affect your gift recipient.
Gift Certificates can be redeemed by fax, mail order, over the phone, or on-line.
Is this easy or what?
Want to order a Gift Certificate?
Simply click here to download a PDF order form. Fax the completed form to us at 905-427-8072.

Note: Viewing and printing PDF files requires Adobe Acrobat Reader. If Adobe Acrobat Reader is not installed on your computer system, you can download it at no cost by clicking the graphic at left.