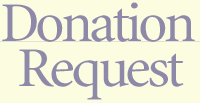 Signs from Above Inc. is very involved in donating gift certificates to various Charities and Non-Profit Foundations. In that respect, we receive a large number of requests and ask that you submit your request in writing to our Corporate Donation/Sponsorship Department as follows:
On your Organizationís letterhead, provide a brief statement about your Organization indicating:
The purpose of the Charity as well as who receives the money the Charity raises.
What you are requesting and how the gift certificate will be used.
Where the donation should be sent and a contact name.
Requests are reviewed on the last business day of each month. So, please make your submission in a timely fashion. Please do not phone or email your request. We respond to all requests by mail or fax during the first week of the month.
You can send your request to:
Signs from Above Inc.,
88 Church Street South,
Ajax, Ontario. L1S 6B3
Attention: Corporate Donations

or fax it to 905-427-8072.
Your adherence to this procedure will allow us to help the maximum number of organizations while still allowing us to operate our business, generate income, and donate more!
Thank You.
Copyright Signs from Above, a division of the Wolfe Island Trust Inc. All rights reserved. 1993-2015