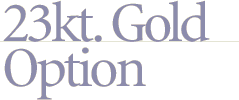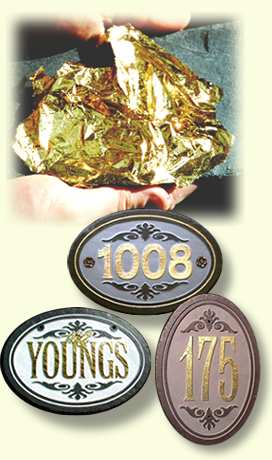 This is NOT paint. It's real gold that we apply to the surface of your sign and burnish using the same process that was used to embellish the palaces of Europe!
We apply two layers, referred to as double gilding, to ensure a shine that is sure to impress.
Our SPECIAL $35 Flat Rate Gold Option applies only to the numbers on the Deluxe House Signs.The price remains the same whether you have one, two, three, or more numbers.
Black Slate is the most popular choice for gilding. However, we find that any color Slate looks exquisite. Regardless of your choice, one thing is for certain, this option offers a timeless elegance that only genuine gold can convey.
We can custom gild virtually any part of your sign but , due the custom nature of the work, please contact us for pricing.
Copyright Signs from Above, a division of the Wolfe Island Trust Inc. All rights reserved. 1993-2015