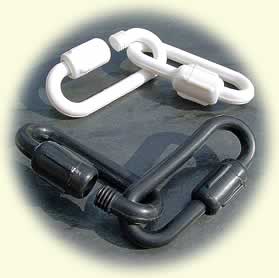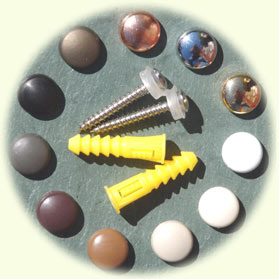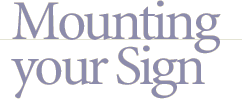 Your sign includes FREE mounting hardware. If you requested a hanging sign you will receive one pair of black or white U.V. resistant quick connect hangers. Otherwise, your sign comes with our standard flat mounting hardware which includes a pair of 1 1/4" stainless steel screws, plastic plugs, and UV resistant plastic cap covers that snap over the screw heads, giving a nice finished appearance.

The cap covers come in White, Black, Ivory, Brown, and Gold Metallic. We make sure you receive the best match to the sign selected.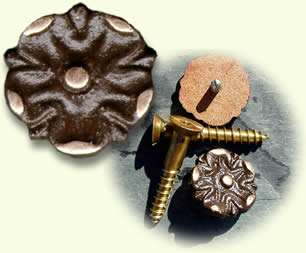 On flat mounted signs, as an extra cost option, you may prefer these Beautiful Hand Cast Bronze Rosettes. This two part mounting system is made for us by the same foundry that supplies the Baseball Hall of Fame with their famous bronze plaques. The quality and finish is unsurpassed and well worth the cost of $25.
Easy to follow instructions are shipped with the Rosettes. However, as a convenience, you may view or print out a copy by clicking here:
Viewing and printing PDF files requires Adobe Acrobat Reader. If Adobe Acrobat Reader is not installed on your computer system, you can download it at no cost by clicking here:

Copyright Signs from Above, a division of the Wolfe Island Trust Inc. All rights reserved. 1993-2015