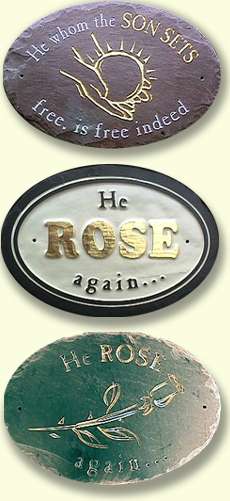 Maybe it's our name (Signs from Above) or maybe it's our address (Church Street) but, whatever the reason, people have contacted us from many faiths for this type of work. There is no doubt that people want their religion to endure and maybe that is why they find comfort in having us carve their message or thought into stone.
These plaques can be found on the walls and lobbies of Churches and Temples.They are also given as retirement gifts by grateful congregations.
The price range for this type of work is quite wide because of the quantity of text and occasional request for 23 kt. gold. Prices on this page range from $140 to $525.
Please contact us to order any of these signs or get pricing on an idea you might have.
Note: While we have attempted to color match these photos to the actual stone colors, keep in mind that each piece of slate can vary in color, texture and tone, even when they come from the same quarry. Also, transmission of these images over the internet and variables in computer monitors can create variations in the colors you are viewing.

Copyright Signs from Above, a division of the Wolfe Island Trust Inc. All rights reserved. 1993-2015