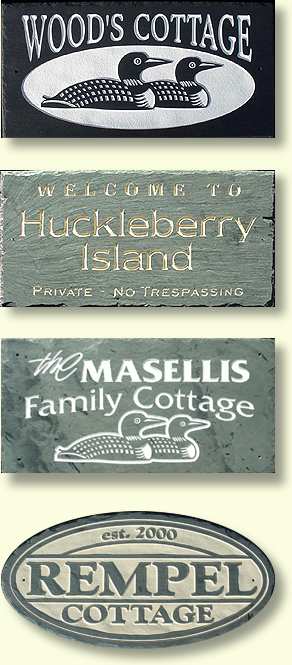 There is never a lack of enthusiasm when our customers come to us for a custom Cottage Sign. They all seem to say "we want something a little different, something with our name on it", occasionally they even have a unique name for their Cottage. And then the last line of their request...."and could we get a Loon on it, maybe even a pair of Loons?"
Well, you can't mess with success and we've become pretty adept at carving Loons for our customers so, we developed a couple of "Loon" Signs with special pricing.
Whether you want a something different (with or without Loons) one thing is for sure. Unlike wood, our Slate Cottage Signs will not warp, crack, or rot and will quite likely outlast your Cottage!
Prices:
Rectangular (regular) $195
Rectangular (loons) $240
Oval (regular) $225
Oval (deluxe) $295
+ shipping + applicable taxes
Measurements: Approx. 12" x 24" x 1/4" thick. As this natural product is cut by hand, slight variations in height and width can occur. Thickness can vary from 1/4' - 1/2" depending on the color of slate, quarry source and age of slate.
Mounting: The signs can be flat mounted or hung. However, unless otherwise requested, each sign will be drilled for flat mounting only.
Stone Colors: Black, Green, Gray more details
Paint Colors: White, Taupe, Ivory, Copper, Brass, Copper/Ivory, White/Silver more details
Design of your Sign: Simply select the style you want by clicking on the template below, then tell us what you want your sign to say. If you desire a totally unique or custom sign please feel free to Contact Us.
Installation: Flat mounted signs are shipped with stainless steel screws, plastic plugs and color matched screw cap covers. All you need is a drill and a 1/4" masonry bit. If you specify 'hanging' we supply specially designed UV-resistant plastic hangers. more details
Options:
($15) more details
Hand Cast Bronze Rosettes: ($25) more details
Delivery: Signs are produced and ready for shipping in 4 weeks or less. Add 7 days for shipping in North America and 10-14 days for International orders. "RUSH" order service available in North America only.
Note: While we have attempted to color match these photos to the actual stone colors, keep in mind that each piece of slate can vary in color, texture,and tone, even when they come from the same quarry. Also, transmission of these images over the internet and variables in computer monitors can create variations in the colors you are viewing.
We offer all the layout variations as pictured in the templates below.
Not sure how the sign will look?
Give SIGNselector a try. Just click on the SIGNselector button and you will be able to try out the different color combinations and layouts to see what looks best!
What to order? Simply click on SIGNselector (it's the most fun) or click on the desired template below. You'll be taken to an order page where you may choose your colors and other options.