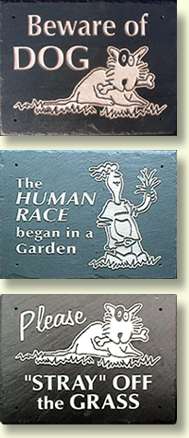 Anything worth doing starts with inspiration. Our inspiration for Garden Signs came from a most remarkable person, David Brown. David has a sense of humor and likes to play with words. We also suspect that the idea of carving some of his words in some of our slate, which could endure longer than the pyramids, appeals to his sense of history. Whatever the motivation, we were delighted when David commissioned us to do an entire series of Garden Signs which he promptly distributed to friends and family. Since then, many of David's ideas have been reproduced (with permission) and inspired others.
Most of these signs are in the $175 - $250 range. They are used for gate signs, crop and fence markers, and pretty much anything else you can think of in a garden. One gentleman even had us carve the VISA logo into a stone he set in the ground by his wife's garden at the front door. He said "I just thought people should know how I pay for all those annuals each year."
Special pricing is available on any sign with a link. Otherwise, please contact us to inquire about any of these signs or get pricing on an idea you might have.
Note: While we have attempted to color match these photos to the actual stone colors, keep in mind that each piece of slate can vary in color, texture,and tone, even when they come from the same quarry. Also, transmission of these images over the internet and variables in computer monitors can create variations in the colors you are viewing.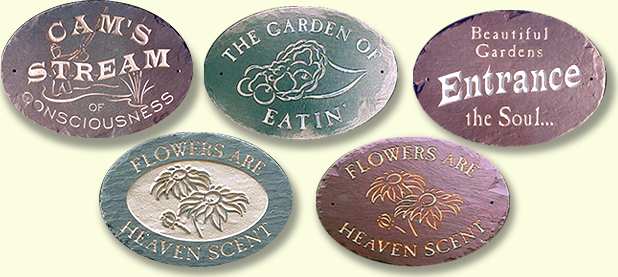 Copyright Signs from Above, a division of the Wolfe Island Trust Inc. All rights reserved. 1993-2015